Welcome to Class 3.
Our lovely class teacher is Mrs Leverton.
In Class 3, we have 14 of the most wonderful children
from Years 5 and 6.
Our Class Scratch project page is accessible through this link:
https://scratch.mit.edu/studios/6018719/
Welcome back to school.
This term we will be looking forward to many exciting events. Class 3 will be participating in swimming each Tuesday so please remember to bring in swimming kits on that day. P.E will continue to be on a Thursday afternoon.
Please encourage your child to read daily as this will have a positive effect upon their writing. Children who read varied texts become increasingly good at using a range of vocabulary in their work. This is an extremely valuable use of time to maximise your child's academic development and we will continually strive to ensure your child develops a love of reading through school and many varied experiences.
In English we will continue to write in a range of genres and will create persuasive letters when we use our topic 'The Blue Abyss' and investigate the effects of plastic pollution.
In Maths we will continue to develop our arithmetic skills and practise these on arithmetic Fridays. We will then begin to develop our knowledge of fractions as we approach Christmas.
Science will build upon our knowledge from previous years as we investigate properties of materials. This will be an exciting opportunity to demonstrate our ability to work scientifically and generate science appropriate questioning skills.
Our topic will focus on oceans and seas and we will explore aspects of the Great Barrier Reef making connections with our last topic on 'Darwin's Delights' we will be able to continue to apply our growing knowledge of evolution. Topic homework will be given out in which children can choose to engage with the suggestions to demonstrate their learning. Dates will be attached with these to ensure they are in school, ready for your child to present to their class.
We look forward to an exciting term with obviously lots of festive events happening nearer the Christmas period, which we will continue to inform you about.
I am available to discuss any aspects of the curriculum with you at the beginning and end of each day, so please feel free to speak with me regarding any matters relating to your child's education.
Kind Regards
Mrs Leverton
Blue Abyss- home learning
Task

Description

Researcher

How many amazing shark facts can you find? Build them into a PowerPoint presentation to show the rest of the class. Remember to include images and perhaps some video clips too.

Pretender

Can you create a documentary style presentation in the style of David Attenborough? You can present this to the class with a power point, by scratch or on iMovie?

Designer

Can you create a Top Trumps –style fact cards about creatures of the Great Barrier Reef

Scientist

Why is the ocean blue? Can you find out?

Geographer

Can you deign an 'under the sea' board game? Think about using your geographical knowledge of oceans and seas.

Artist

Can you make an artistic interpretation of the sea? You could create a painting or a sculpture. Could you research a famous artist who paints seascapes?

Can you draw the view of the ocean you might see if looking through the window of a submersible?

Writer

Can you write a story about a diver's exploration of a coral reef?

Can you research how to scuba dive and write a set of instructions for a new diver?
Each of these projects will be a two-week project and therefore that should be reflected in the quality. The hand-in dates are as below. You need to complete a total of three this term. Hand in dates- Friday 22nd November, Friday 6th December and Wednesday 18th December.
Amazing work on our topic Darwin's delights. Fantastic documentary style presentations, demonstrating our knowledge of Darwin.
A fantastic visit from Spilsby Fire Service. We enjoyed finding out what the role of a fire fighter involved and listening to a fire safety talk. Going on the fire engine was amazing! A great start to our aspirations week.
A very busy week in class 3. We have investigated how animals survive in different habitats. Looking at how blubber keeps them insulated against extreme temperatures. In art we explored the sketches that Darwin took whilst on his visit to the Galapagos Islands and had a go at creating sketches ourselves whilst developing our skills in shading. In maths we looked at using negative in real life contexts. We used thermometers to test the temperature of water and ice.
Using our geography skills to locate and plot the route Darwin took aboard HMS Beagle.
Investigating how different beak types allow birds to eat different food types and how this can affect their ability to survive in different habitats.
Class 3 have enjoyed a fantastic start to this term. They have been reinforcing their knowledge of place value and using their figurative language when writing setting descriptions of the Galapagos Islands.
A great start to our new school year- a visit from a dinosaur! We linked this to our recap on fossils and investigated the extraordinary work of the palaeontologist- Mary Anning.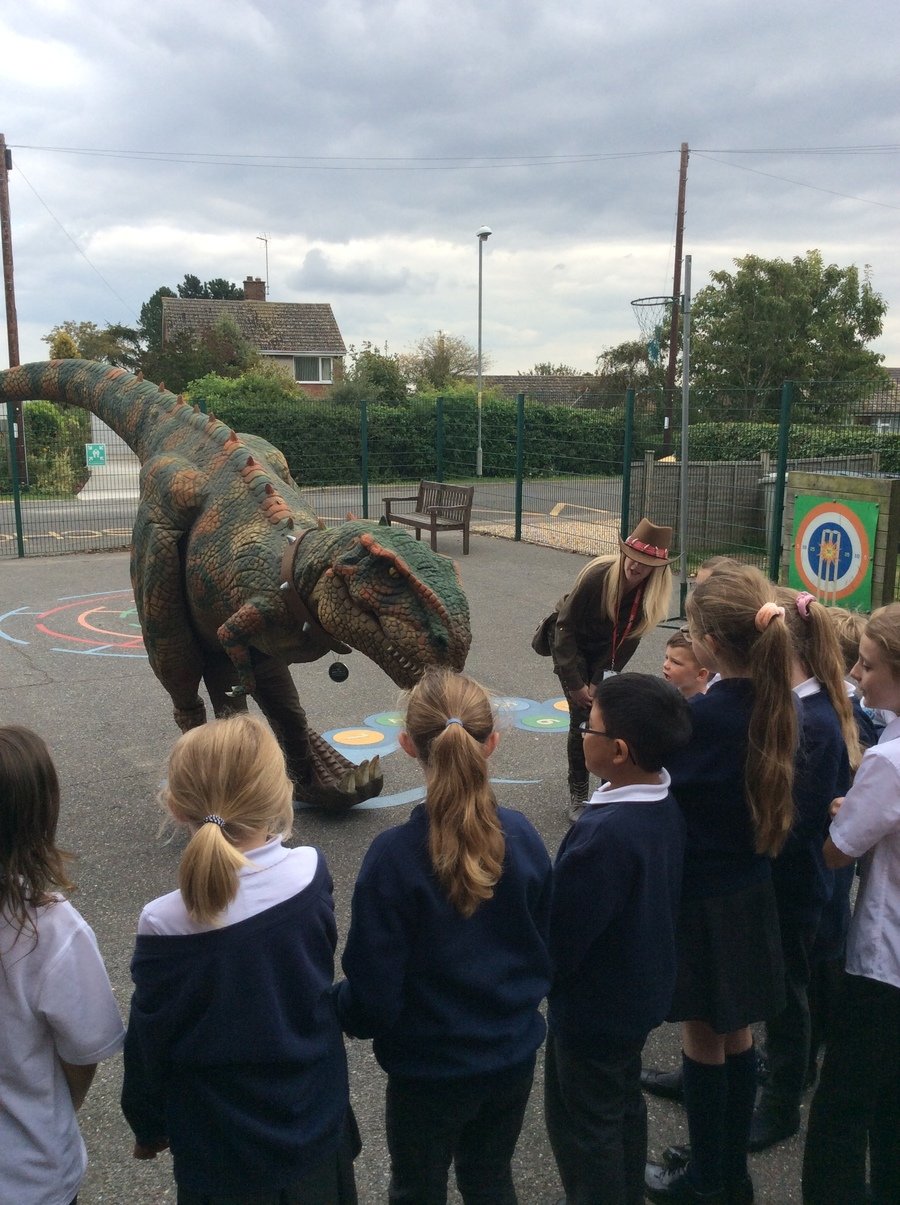 2018/2019
Year 6 having a lovely time at the leavers sleep over. A great time was had with a water fight, followed by fish and chips, watching Harry Potter and eating snacks.
Class 3 enjoyed an R.E lesson with Father Peter.
He showed them the meaning of colour in Christian cloth.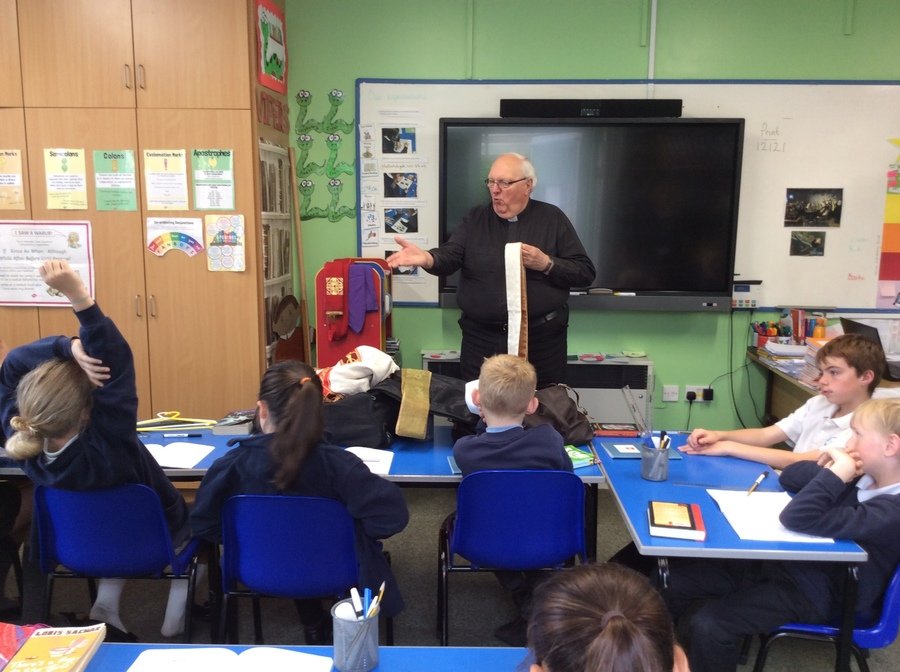 Class 3 creating their models for the NATRE Spirited Arts Competition.
Class 3 enjoying making super star cakes as a reward for all their hard work this term- they tasted delicious!
Class 3 have produced some fantastic writing, based on the book 'Letters from the Lighthouse'.
Class 3 have produced fantastic documentaries when working on their science: 'All Living Things and Their Habitats.' Please take time to watch the ones produced by Jared and Casie. Well done class 3!
Class 3 have produced amazing projects again. Dom created a wonderful song and accompanying piano music, which members of the class kindly helped to sing with little practice- Well done!
The children enjoying Boxercise with JB Sports.
Enjoying working outside in the sunshine- writing letters linked to our class reader 'Letters From the Lighthouse'.
A lovely day visiting Lincoln Cathedral for the Church Schools' Festival 2019.
Class 3 have had a lovely day- dressing as evacuees and bringing four items with them for their journey to their new homes in Devon. They painted landscapes, wrote postcards home and baked some delicious war time biscuits. They really embraced the era when they had to hide under their desks every time they heard an air raid siren and listened to popular war time songs- discussing their meaning. This brought to a close a very enjoyable topic- A Child's War.
Class 3 have worked very hard to produce some fantastic projects, based on our topic- A Child's War.
Class 3 enjoying taking part in an afternoon of science to celebrate science week. They participated in four investigations and particularly enjoyed discovering about non- Newtonian liquid.
Class 3 enjoyed making pancakes and eating them! This helped us to apply our knowledge of measure.
Class 3 enjoying their science in the sunshine. Testing the effects of friction on different surfaces.
Class 3 enjoy reading about what is happening in the world, this links to our class discussions on topics watched on Newsround.
Class 2 and 3 had an exciting trip to Warner Brothers Harry Potter Studio. This was in preparation for some exciting narrative writing. They all had an amazing time. Lillie said she especially enjoyed looking at Hogwarts Castle. Lucy enjoyed going through the forbidden forest and Casie enjoyed finding the stamps to fill her Harry Potter passport. Watch out for a selection of our wonderful wand advertisements!
Watch here for a selection of our spell bounding wand advertisements using IMovie.
Our School Choir Club enjoyed performing at the Spilsby Rotary Carol Concert at St James Church Spilsby on Friday 7th December. They all had a wonderful time performing: It's Snowing & Never Enough. Well done to all the choir for all their hard work rehearsing over the past term.
Class 3 had a fantastic afternoon out at Primary Athletics at Skegness Grammar School. Well done for an excellent performance. We have some super fast runners in our team!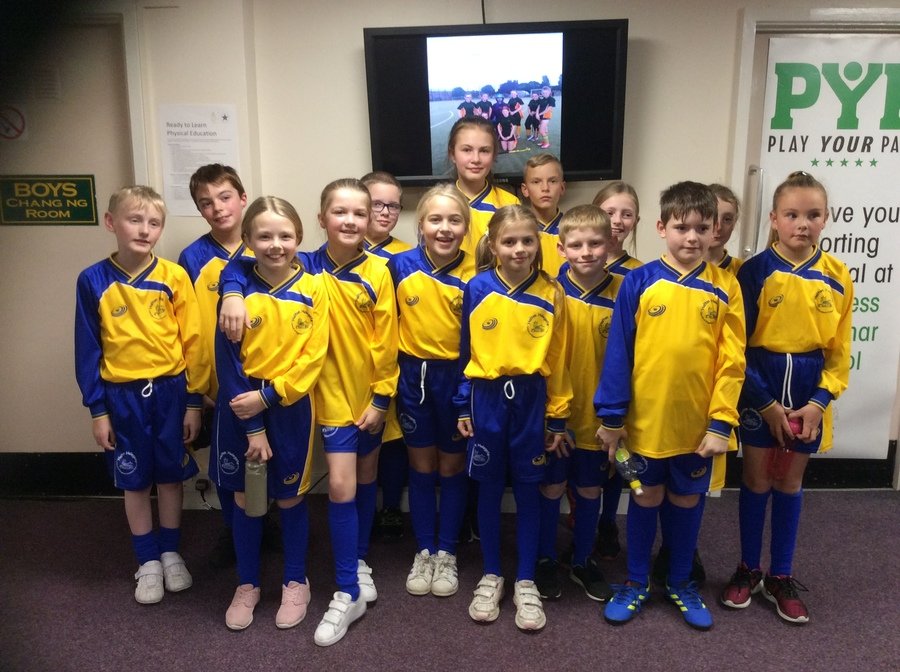 Remembrance day poetry- fantastic use of figurative language in some very thought provoking poems. The children worked sensitively to produce excellent work, commemorating 100 years since the end of WW1.
Class 3 Mexican Day- Parents and carers were invited to share with the children the work they had been learning throughout the term. The children presented their wonderful project homework and even sang a song that they had created themselves. The visitors participated in a craft activity- making dream catchers. The children prepared guacamole, Mexican chilli and delicious biscuits.
Class 3 had great fun making sausage rolls to celebrate Lincolnshire day. They used their maths skills to estimate when measuring-great mathematical discussions developed! The rest of the school enjoyed sampling the sausage rolls in the afternoon!