ECO Council's Newest Initiative
ECO Council's Newest Initiative
23 February 2022 (by Lesley)
'Wear, Care, Share'! We are collecting clothes that are no longer needed and can be recycled to raise money for the school. This money will be used to help deprived people around the world as well as helping to stop over filling the landfill sites.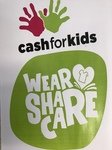 Hoping the whole community can help with this project. For every Tonne of clothing we collect the school will be given £400.
the clothes will be taken and sorted and given to deprived people local and around the world. This will help keep land fill sites to a minimum.