14.12.2021 With COVID instructions in place, Halton Holegate's Nativity took place inside St Andrew's Church.
18.10.2021
We have had a fantastic Harvest Festival at St Andrews church this morning. It was lovely to see such a full church with many children, parents and carers.
Class 3 sang 'Going down to the allotment.' Class 2 sang 'Harvest time again.' and Class 1 and Nursery sang, 'The bean harvest'.
We would like to say a big thank you to all of those who donated. All donations have gone to local food banks to support those in need.
14.05.21
This afternoon, Class 2 Walked to St Andrew's Church to find the font in the new children's handbook that the church have created, this supported their current RE topic of Baptism.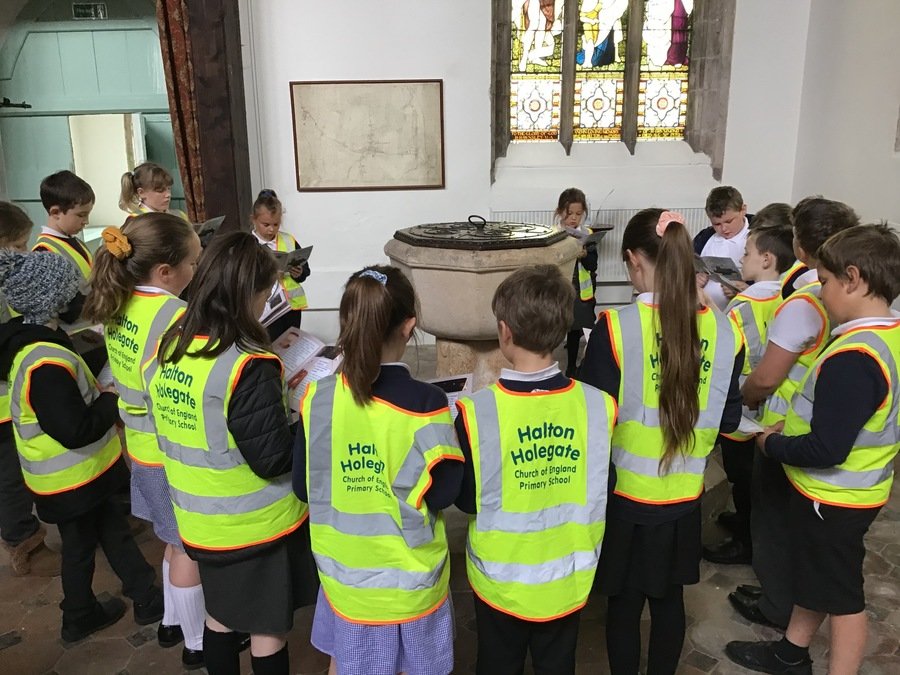 Term 5
As part of their current learning focus in RE, Class 1 have been learning about stained glass windows. To support the children's knowledge and give them a real life look at stained glass windows and the stories within them, they visited St Andrew's to see what they have.
11.11.20
This afternoon, Class 2 went to St Andrew's Church in Halton Holegate to remember all the servicemen who were local to the area that died in the First and Second World Wars. Each serviceman was honoured with a hand crafted poppy and cross put onto the church door.
At 11 O'clock the children held their two minutes silence and thanked the servicemen for their bravery. The children also laid a wreath at the door.
The poppies are now on display inside the church.